Retail Showroom Hours & Directions:
222 Murphy Rd.
Hartford, CT 06114
Tel: 866-600-7769
(Next to Baseball City in the SouthEnd of Hartford, In the old original Golfer's Warehouse building)
WINTER HOURS: TBD

Summer/Fall hours:
(Wed.-Fri. 9-5:30 + Sat. 10-5, Sunday-Tuesday Closed)

We have decided to be open during the off season (for now) but with limited service (i.e. We are here to check out your purchase but may give you a little space and breathing room to browse at your leisure. Our guys this time of year have transitioned to working on our online sales channel) If you are not familiar with our store we are an Internet Operation but open to the public.

Our dedicated Staff Now Welcomes You as We are Open to the Public to Shop from our Extensive Online Inventory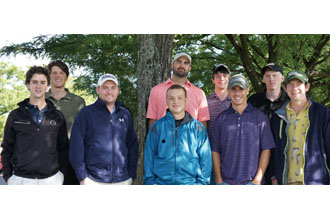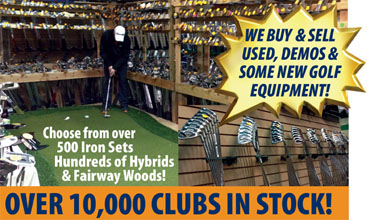 Don't Pay Full Retail for Golf Equipment!
Our golf shop is the solution to saving you money on golf gear as well as showcasing 1000's of used clubs to create a shopping experience for the avid golfer that will simply wow them. This is not your usual retail golf shopping experience.
We primarily sell our goods on the Internet at rock bottom prices but since we have opened to the public we have really grown our retail presence to the local golfing community. Golf can be very expensive but here at Swing'em Again Golf we are providing a solution to saving money as we specialize in selling used clubs, demos and a large selection of new gear well below the traditional retail prices of the big box golf & sporting goods stores. We have started to carry a wide array of equipment in addition to clubs as we have clothing, bags, gloves, shoes and more all at liquidation prices.
Our history:
Our family has been in the golf business since 1960 and during this time built the Golfers Warehouse chain of stores across New England. After selling the stores in 2001 my parents retired and the next generation branched out into the Internet. We own and operate various website.
We Also Buy Golf Clubs:
We also purchase golf clubs from the public. We have created an extensive value guide which allows you to view what your clubs are worth before we buy them. Visit our monthly Value Guide (Click Here) to see what we will pay for your golf clubs. Or just bring them into our shop and we will price them for you. There is no purchase necessary to sell us your golf clubs. We only purchase name-brand golf clubs that still have a value.